To celebrate our 35th anniversary this year, we asked a few questions to John, the owner and soul of MJ Jewellers.
How did you start in the jewellery industry?
J- I started over 50 years ago in Hong Kong in a high-end jewellery store and kept working in this field when I came to Vancouver.
Back then, I created a design that became so popular that we sold thousands of it! It really gave me the passion to do more designs and have my own jewellery shop.
When / Why did you start MJ Jewellers?
J- I opened MJ in 1986. I had been wanting to own my own jewellery store for a while prior to starting MJ. I wanted a space to create my own designs. Having my own store gave me the freedom to create unique and different pieces that I never saw in Vancouver. I also love to work with my team of goldsmiths to see what's doable, what's not. At times it can be challenging but always interesting.
I was always passionate about gemstones and I really wanted to have my own collection. I find them fascinating with their own unique colors and characteristics. To me, my business is very personal. It's not just about selling beautiful jewellery, it's about creating a story, memories and the perfect piece for the person. I love to read customers' minds and create the perfect piece for them.
I remember once, one of my very good customers came and just asked me to create a design without having anything in mind. She didn't even have a look at it during the all process but loved it!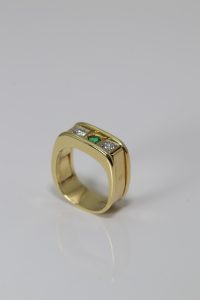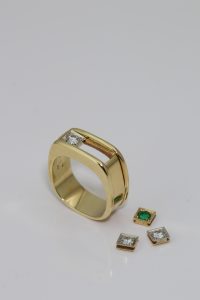 What is your favorite piece you ever designed?
J- There are a lot but I would say my favorite and more original one is a ring that allows you to switch the stones on it. So you can choose what stone to wear depending on the mood and outfit of the day. I really like this one.
What is your favorite thing about owning a jewellery store?
J- I love the bond that I create with my customers. It is very satisfying to create a piece that reflects such important moments in people's life. All of these are such special and emotional gifts. It's really something that brings me a lot of joy!
Doing fine jewellery using these high-quality stones makes me very proud to create such unique pieces. They become fascinating work of art to me.
Also, it's a happy business and I'm really glad to be a part of it. I have third-generation customers coming to my shop. This makes this business even more special and personal to me. People would come after 30 years and still love my piece. That is very rewarding for me.
My jewellery shop is my happy place.
 
How many people work for you?
J- I have 9 employees at the moment. I have been working with some of them for almost 20 years! We are like a family. I am still in contact with employees from 30 years ago. I love my shop because we are all coming from different parts of the world and we learn so much from each other.
 
Where did you get your inspiration from?
J- Mostly fashion magazines to see the trends, colors, textures to create my own designs.
I also often dream about jewellery and then put them on paper for the goldsmith to do the magic!