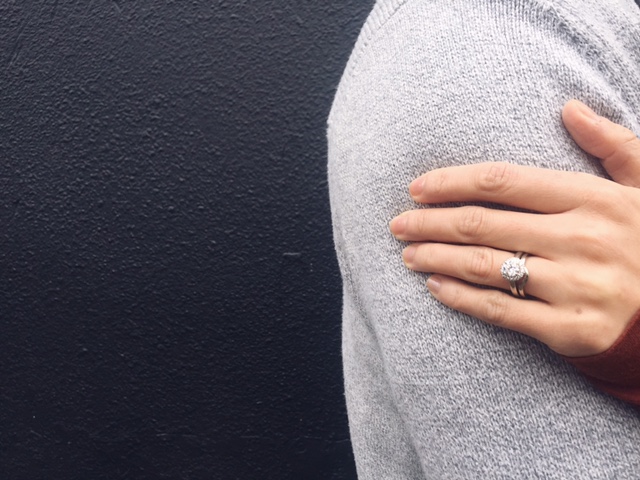 Let's talk about the awkwardness of, ahem, hinting. If you've been talking about taking your relationship to diamond status, of course you want to love the ring as much as you adore your partner. However, if you know a proposal is upcoming and you both want an element of surprise…how do you go about making sure you'll be happy with the ring you get?
It's important to think and talk about this, for both relational and practical reasons. The last thing you want is for your partner to spend time, effort, and finances on an important piece of jewelry you don't love. If your ring doesn't suit your hand (for example, the width of the band, the size of the secondary gems), there may be additional costs to making adjustments. If it helps, know that only 30% of men choose the ring themselves (as in, hint-free). It's common practice for the person proposing to have some idea of what their partner wants.
If you are the one in your relationship who will be getting proposed to, here are two ways to go about making the process clearer
1. Tell your best friend exactly what you want. This is our top recommendation if you're the type of person who doesn't want to text your man or woman pictures of the rings you like, or if you know your partner wants a degree of independence in choosing the ring. The surprise element is romantic, but tricky. Make it simpler by telling your best friend or closest family member (whoever your partner would most likely ask) what your wedding jewelry taste is. This can range from knowing you definitely want an emerald-cut diamond to knowing you want an oval sapphire with diamond halo on a platinum band. If you're using descriptors like "something simple" or "something vintage," use pictures to show examples of what that means to you. Tell your BFF as many specifics as you know, so that if your partner double checks with them, the communication will be clear. Finally, don't forget to articulate that you yourself want the proposal to be a surprise. There's nothing wrong with saying, "Hey, IF you and I ever get engaged, I'd like to be surprised. It's nice to have a normal day turn into an unforgettable one."
2. Do it together. The engagement conversation and process is specific to each couple. For many couples and cultures, the wedding is discussed and agreed upon before the official engagement. If you and your partner have already talked openly about getting married, you can forego hinting and state your thoughts clearly. Let them know if you still want them to choose the ring and surprise you, or if you'd prefer to ring shop together, or if you would enjoy being proposed to with just a round diamond (yes, just the gemstone), and then choosing the ring design together. Some sample dialogue could include, "Just daydreaming here, but if we ever get married one day, I think it'd be fun for us to design both the engagement ring and wedding bands together. Surprises aren't for me, and it'd be so interesting to work on merging our visual styles together. What do you think?" Talk together and learn where you both stand on engagement jewelry.
We hope this gave you some helpful questions and details to think about! These two approaches are just examples, and it all depends on your personality and how you and your significant other want to do things. The thing to take away is to communicate, communicate, communicate. If you don't like diamonds, mention what you do like. If you love floating solitaire styles or if you love yellow gold, make sure your partner is aware. Whenever that velvet box opens, we hope your face will light up with nothing but genuine delight.